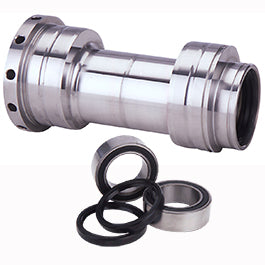 Featuring the highest quality twin row bearings available and a high strength chromoly center tube, this bearing carrier will give you much more strength and durability than your standard single row bearing carrier. The sealed bearing setup is best suited for someone looking for a carrier that is maintenance free. Fits all stock components.
Why do I need to replace my OEM bearing carrier?
One of the first things that fail on an ATV is the axle bearing carrier. When this happens it can be very costly. Typically damaging the axle, sprocket hub, brake hub, and the housing itself. These items can be very costly to replace not even taking into account the inconvenience of a break down during a long ride or in the middle of a race. Stock OEM carriers typically are aluminum castings and use only single row ball bearings. Because of this they do not hold up to the rigorous riding style of most serious riders and racers. RPM's Twin Row Bearing Carrier is CNC machined from aircraft quality billet 6061-T6 aluminum. Each bearing is a dual row ball and race with factory installed seals, or in some cases two sealed single row ball bearings installed side by side. For a total of four rows of bearings to increase the strength and longevity of the bearing carrier. RPM is insistent on using only the highest quality bearings available. They also have pressed in seals outboard of the bearings to protect them from water and contamination. The Twin Row Carrier also includes a center tube made of 4130 chromoly steel. This high strength center tube prevents the inner bearing race from side loading and causing bearing derailment and failure.The bottom line is that RPM has manufactured the strongest and most reliable bearing carriers in the world for almost 20 years.