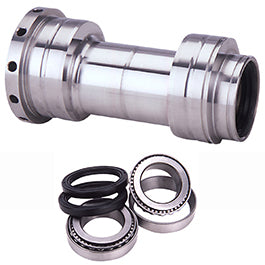 Featuring the highest quality tapered roller bearings available for a greater side load capacity than standard ball or twin row bearings. This bearing carrier will give you much more strength and durability than your standard single row bearing carrier at half the price of a stock OEM style carrier. Fits all stock components.
Why do I need to replace my OEM bearing carrier?
One of the first things that fail on an ATV is the axle bearing carrier. When this happens it can be very costly. Typically damaging the axle, sprocket hub, brake hub, and he housing itself. These items can be very costly to replace not even taking into account the inconvenience of a break down during a long ride or in the middle of a race. Stock OEM carriers typically are aluminum castings and use only single row ball bearings. Because of this they do not hold up to the rigorous riding style of most serious riders and racers. 
Due to customer demand for a more durable bearing without sacrificing any chain adjustment, RPM now offers this Tapered Bearing Carrier for select models. Because tapered bearings are designed to handle radial load (side to side) as well as axial load (up and down) they are far stronger and more durable than a typical ball bearing.  To keep production costs to a minimum, we've taken our existing twin-row carrier and converted   it to use tapered bearings. While RPM uses only the highest quality bearings in all its carriers, these tapered bearings are much stronger than the twin-row ball bearings that would otherwise be installed in this carrier. 
Please follow the Tapered Bearing Carrier Instructions included in all carriers for installation instructions.