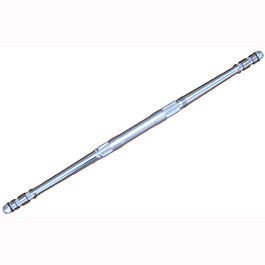 What makes the Dominator II axle so much stronger than other axle brands?
Over 20 years of engineering, testing and reengineering has gone into producing the strongest axle in the industry. Our proprietary 10-step process has been fine tuned to create the most durable axle designed to withstand the extreme stresses in the racing environment. The attention to detail that goes into every Dominator II axle produced ensures the highest level of quality and reliability.
What kind of warranty do I get with my Dominator II axle?
All RPM Dominator axles come with a Full Lifetime Warranty against bending or breakage for the original purchaser.  Each individual axle comes with a warranty card that can be filled out online, or mailed into RPM direct.  This card must be filled out within 10 days of purchase and on file at RPM for any warranty axles to be claimed!  Under this Warranty, we will either repair or replace the axle (at our option) for as long as you own your axle. All you will be responsible for is the shipping charges!  BEWARE: Other axle manufacturers will replace a broken axle once for free, but then charge nearly $200 PER REPLACEMENT thereafter - not RPM! No doubt about it - we have the best warranty available anywhere in the industry.
What is included with this axle?
  (2) 1/2" spacers P/N EA0024
  (2) 1" spacers P/N EA0023
  (2) Castle Nuts P/N B0031
  (2) Wheel Hub Shoulders P/N EA0216